Remembering the Meaning of Easter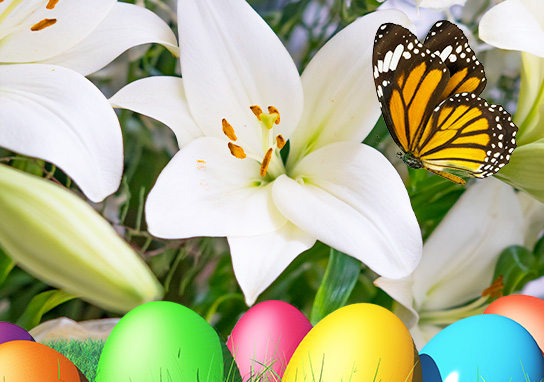 Spring can bring about the excitement of warm weather, the end of the school year, and the notion that summer is around the corner! We mustn't forget that it is also a big celebration of life, especially for us as Christians. While it is fun to celebrate with ideas of egg hunts and the Easter Bunny coming out to play, we wanted to remind you where all of these modern ideas came from, and their origin in relation to Easter.
Easter Lilies
All kinds of flowers bloom in spring, but Easter lilies hold a special significance to us, especially around this time of year. Lilies are mentioned multiple times throughout the Bible, even back to the Garden of Eden. They speak of innocence, purity, rebirth, and new beginnings. Easter lilies are most often tied to The Virgin Mary, and the resurrection of Jesus Christ himself.
Not only do lilies bloom after forming in a bulb underground for some time, reminiscent of Jesus' death and resurrection, but they are also believed to have bloomed in the spots where His blood, sweat, and tears landed during the crucifixion. They were seen as fixtures of hope and the new beginnings that arose as He sacrificed himself for our sins. Not only will your Easter lilies make a lovely centerpiece for your Easter feast, but now you understand the meaning behind it too.
The Butterfly
With birds chirping and animals celebrating the end of winter, the butterflies are also plentiful come springtime and Easter. Jesus is often symbolized by butterflies when one looks at how a caterpillar becomes a beautiful butterfly. The time spent inside of the chrysalis recalls the time Jesus spent in the tomb before being reborn, just as a butterfly emerges.
This metamorphosis is also symbolic of the transformation that can occur in your journey within your faith, led by God's grace.
Easter Eggs
Easter eggs also have more than one significance when it comes to their tie to actual Christianity. Just as an egg must crack and hatch for a baby chick to be born, just as God opened Jesus' tomb so that he could emerge. Symbolizing both the tomb and His resurrection, the egg brings forth the meaning of new life. This can be carried even further with spring, since so many young are born during spring, as it celebrates the new life of offspring and blooming of flora as well.
While understanding and valuing the traditions of Christianity and Easter, Impact Christian Academy also supports the fun activities that come with the Easter holiday. If you are looking for a festive activity to start your Easter celebration early, please hop on over to the Impact Church Egg Hunt at Ed Austin Park this Saturday, April 9th from 11:30 AM to 1 PM.
With ICA's practice of instilling a biblical worldview, we focus on helping your children excel in knowing God and finding freedom in their faith. If you are looking for a private school in Jacksonville, Florida, start your application with Impact Christian Academy today.